Four Reasons to Conduct a Marketing SWOT
Today's One Minute Marketing Minute: Four Reasons to Conduct a Marketing SWOT
Here are four reasons to conduct a Marketing SWOT (Strengths, Weaknesses, Opportunities, Threats analysis) right now with our Marketing Coach service.
Reason 1: Reset Your 2020 Plan – Marketing SWOT Helps You Plan for the New Reality
It's time to reset your marketing and selling. A lot has happened in 2020, a pandemic and now into a recovery begs the question, "What do you need to be doing differently now?" The Marketing SWOT helps you answer that question and understand what changes you need to make.
Reason 2: Uncover Gaps – What is Missing in Your Marketing Process?
The Marketing SWOT uncovers gaps in your marketing and selling process and informs how to think about how to fill those gaps to make your marketing more effective.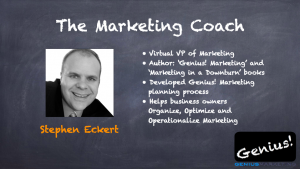 Reason 3: Reallocate Resources – Focus on New Opportunities
There are new opportunities for growth. Where do you put your resources – your time, your energy and your marketing dollars? The Marketing SWOT helps you uncover where the opportunities are focus where resources should go.
Reason 4: Move to Action – Prioritize to Maximize Your Marketing
Marketing SWOT is the first step to moving to action. At Genius! Marketing we are always about the action plan. What is the first priority when it comes to your marketing? What are the top one, two or three things we need to do right now to maximize your marketing? The Marketing SWOT will help you understand what the priorities are for your marketing in the next normal. You can start to develop an action plan out of the Marketing SWOT analysis.
Reset Your marketing
The Marketing SWOT helps you take stock of the current situation in and outside your organization and inform your next Marketing Plan. Contact us to learn more.