Marketing Coaching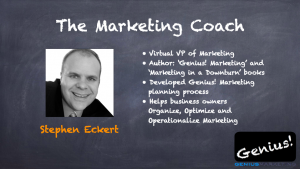 I help business owners get the most out of your marketing. I developed a step-by-step system to help small businesses organize, optimize and operationalize marketing.
My clients care about how their company is perceived in the marketplace. But they don't have the time to directly manage marketing. In fact, they have multiple vendors and in-house staff working on various marketing, digital, PR and advertising projects. Too often marketing is start/stop. No consistency. It drives my clients crazy that marketing isn't working. They need an experienced leader they can trust to help them get marketing results.
---
What is Marketing Coaching?
Marketing coaching lets you work with us to develop your marketing plan, brand, creative or learn how to conduct your own marketing tactics like search engine optimization, Zoom selling or digital advertising on Google and Facebook. Coaching is done via call or Zoom and consists of work sessions in which we review marketing work you or your team do between sessions. We support you throughout the process and if needed, can provide resources you need to get your marketing launched.
Coaching can be for the entire Genius! Marketing O3 marketing strategy process or a single tactic or creative review. We also coach your staff learn marketing skills needed to manage your advertising and marketing.
Featured Coaching Program: Marketing S.W.O.T.

Uncover your Strengths, Weaknesses, Opportunities and Threats to improve your Marketing
---
Fractional/Virtual VP of Marketing
Most small companies struggle to manage marketing. A CEO, owner or sales executive may oversee marketing. They'll come up with ideas and might have someone in-house to execute the idea. However, their "other" job… running the company or managing the salesforce… often leaves them with no time or energy to manage marketing.
Other companies do quite a bit of marketing, but it is not managed. There is no coordination between what operating units are communicating or tactics they're running. This may lead to stop-start efforts and communications that don't work well together, even seeming to come from different companies.
These are a couple of scenarios that are typical for the companies we serve. In fact, that's why we started the Fractional/Virtual VP of Marketing to help manage marketing. For companies who don't need, or can't fund, a full time employee (FTE) to run their marketing effort. We provide both the strategic marketing planning and the ongoing implementation management.
Best of all, the program works because we provide the resource you need while working with your current team of internal and external resources. Yes, we have all the production, PR, creative and programming talent a project may need, but our first goal is to determine what your team has and needs. We won't dictate who works on your projects.
Our engagements usually begin with a single project. A CEO, owner or manager says, "We need a (fill in a marketing tactic)." We will help get that done and start discussing the overall goals – sales and financial – for the company. We can then help revitalize, or develop, a marketing strategy. The result is a marketing process that gets things done.
Simple Marketing Plan – if it isn't simple, it isn't getting done. We can always add more as we build the processes.
Marketing Team – a way to organize internal and external resources to create an effective process.
Marketing Schedule – a must have… it explains when things are happening and how they will happen.
And more tools to successfully manage marketing.
Over time we build the processes that can be managed internally or we can continue to help out if needed. Often that means a bit of accountability to make sure the new processes keep working!