More Mobile!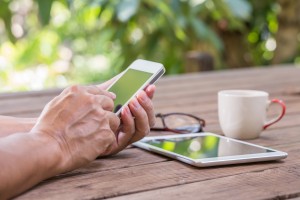 Like the old SNL skit heralding the need for more cowbell (just saw this again on the SNL 40 app – more about that later), there is now as passionate a cry for "More Mobile!". Here's why: more than half of internet access is via mobile devices (smartphones and tablets) versus computers (laptops and desktops). Depending on the research, it ranges from just over 50% to 60%. Mobile only access (users who access the internet exclusively via mobile device) is over 30%. That means no computer, just a phone or tablet.
This trend has been building for a few years. Most companies have not fully realized the impact of mobile on their online and media strategies. Now is the time to do so.
Now back to the cowbell. I watched the SNL 40 special via DVR. Well half of it anyway. Then I found the SNL app which allowed me to watch skits on my phone. Because we all need more cowbell in the palm of our hand.
Maybe not, but it is instructive. Your business can also deliver great content and functionality via mobile device. Whether through an app, a mobile/responsive website and/or social media.
There are many ways to engage customers and prospects via mobile. This is where a good review of your overall business, financial, brand and marketing strategies is key.
Your mobile strategy might be the product (SNL video is the product). A new way to deliver your service through mobile connection.
Or it could be great content that helps your viewers. Education about the market, their job or other useful information is highly valued. It goes back to the simple adage or helping someone. The results can be a very strong brand following (and lots of sales).
It might be a customer service strategy via mobile. In which you engage your customers and answer their questions via an app or secure member site.
And of course there are also many advertising channels through mobile as well. We've had success for our customers using the mobile advertising network.
Finally, there is Ecommerce via mobile. The number of sales via mobile have skyrocketed. And not just in retail, "traditional" categories.
There is no doubt that more internet views, discussions, interactions and transactions are happening via mobile device. Just track your usage of your phone or tablet for a few days…or ask a 20-something about their usage.
Not sure how your company can benefit from a mobile strategy? Let's talk… we can help you get out of your box and into the palm of your customer's hand. (Contact Us)
Check back regularly for the latest Marketing Tip, or email us to be emailed the tips. Or if you're on Twitter, follow us to get the tips @StephenLEckert.