Not Mobile? Say Goodbye to Google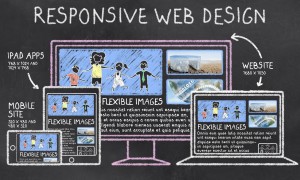 For years you've heard folks like me say that mobile is critical for many reasons:
studies say more than 50% of internet access is via mobile device
some 30%+ only access the web via mobile (no computer – only tablet or phone)
non-mobile websites are hard to navigate on a phone causing a higher bounce rate
Here's another reason: Google is changing the way it indexes websites and the change may affect the way sites that do not have a mobile version are indexed. Meaning that not having a mobile site may affect your position on Google search.
The story is not yet fully told, it seems local search won't be affected (at least at first) and video and image searches may not be affected. What is clear is that Google is adding to its algorithm for search results a mobile component… and we all know that mobile is only going to get bigger (or smaller in some cases like the Apple Watch) in the coming years. More mobile devices searching, more need for mobile-friendly search results.
What to do? Here's a great article from the Silicon Valley Business Journal with advice for eight things to do in response to the need to go mobile. A quick look at the list:
Test your current website.
Update to responsive design. (a site that responds and resizes based on screen size of the device loading the website)
For websites with eCommerce, make sure the shop is mobile friendly.
Establish a migration plan with your Web developer.
Faster is better. Google rewards websites that load quickly.
Ensure it's secure.
Authenticate with Google Webmaster Tools.
Implement Google Analytics.
Of course, I'd make their #4 the #1: Make a Plan for migrating to mobile. I'm all about the plan. (And executing it well.) Let's walk through the Biz Journal tips:
Is your site ready? Here's the Google test.
The other way to test your site is to make the browser window smaller… grab the right edge of your browser window with your mouse and move it to the left – do the blocks of text and photos move and rearrange as the window gets smaller? If they don't move, you're not mobile responsive.
Here's an ecommerce site that works on mobile that we developed: TreehouseSweets.com. Take a look at their shop on a phone (or shrink the browser window as described above) to see how the shop works on mobile – or visit on your mobile phone (and buy some fudge!).
We use dedicated hosting for our sites – to make sure it is fast and we did a major security upgrade in January 2015. (And security is a never ending process!)
While we use the Google tools, we also keep track of what yahoo, bing and other search sites are up to.
If you want to discuss a responsive website, ecommerce issues or other online questions, contact us. We'd be glad to help you plan your move to mobile, build your mobile-friendly responsive site or help in any other way we can.
SLE