Marketing is not seen as a highly sought after career by students according to a Marketing Week/Unidays study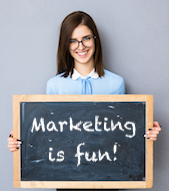 According to a Marketing Week study  only 3% of students aged 18 – 24 years said that marketing offered the best career opportunity. Medicine led the responses with 16%, followed by management (12%) and engineering (11%). This may be because only 1% of survey respondents said marketing is mentioned in school 'a lot', while 51% said that marketing was 'never' or 'hardly ever' mentioned in school.
Still, the study shows that marketing must have some appeal… 57% of respondents said they would consider a career in marketing. Perhaps students know its a whole lot of fun!